Strength is back in the German SVoD market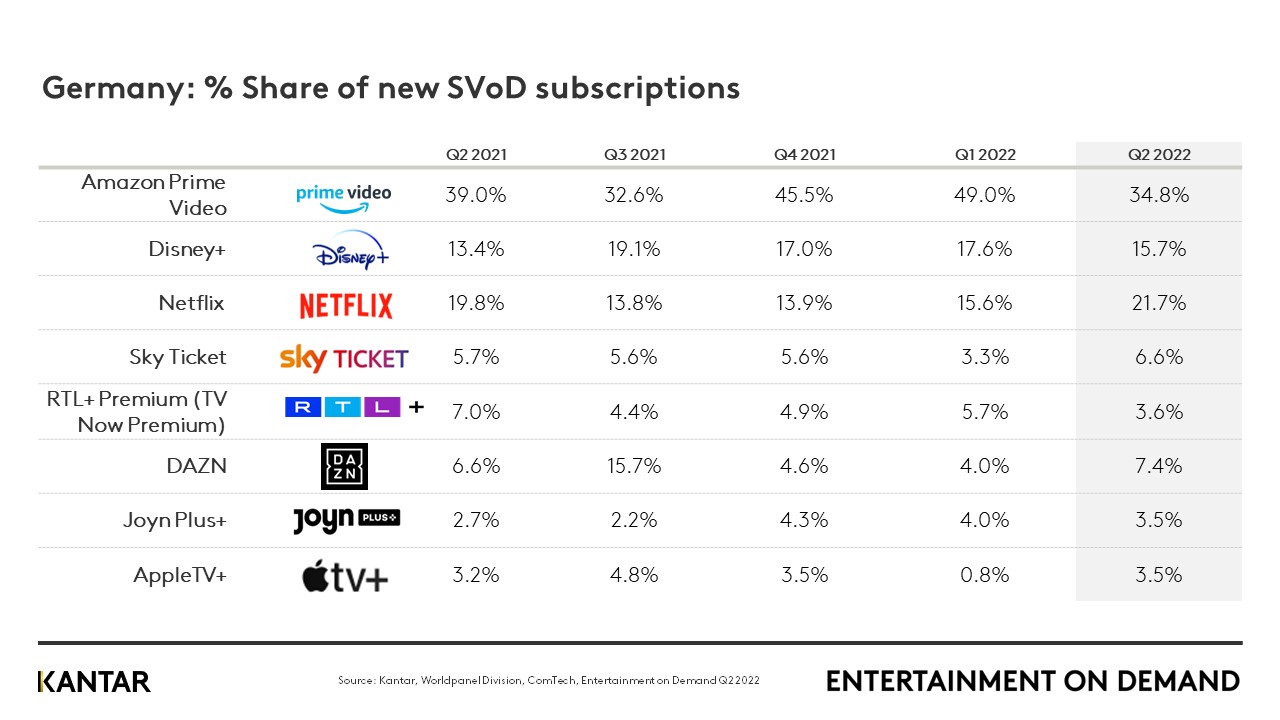 A study on on-demand entertainment in Germany reveals the following behaviors in the subscription video-on-demand (SVoD) market in the three months to June 2022:
Between April and June 2022, the number of VoD households subscribing to at least one video service in Germany rose to 21.9 million, up 610,000, quarter on quarter, representing 53% of households, compared to 51.3 % in the first quarter of 2022. .
Nearly a third (32%) of SVoD subscriptions taken out during the quarter were taken up by households new to the SVoD category, while one in five German households (21%) canceled an existing subscription to replace it by another supplier.
The average household with SVoD has 3.0 subscriptions, up +0.2 compared to the last quarter
Stranger Things was the most popular title in the second quarter, followed by Money Heist and The Blacklist, completing Netflix's dominance of top titles in the quarter.
Star Wars has fueled the growth of Disney+

After a period of sustained weak growth, the German SVoD market accelerated in the second quarter of the year.
Disney+ attracted growth in the quarter thanks to its Star Wars franchise, with 45% of new Disney+ entrants citing "wanting to watch a specific TV series/movie" as their top motivation. Of these content-focused subscribers, Star Wars content, including the release of Obi-Wan Kenobi, accounted for 49% of new subscribers.
Disney+ also saw an increase in engagement from its subscriber base, with the proportion of high-engagement users reaching an all-time high of 17.1%, up from 14.6% a year ago.
This increase in engagement also helped Disney+ overtake Amazon Prime Video in overall subscriber defense, capping off a strong quarter for the service.
Amazon Prime is approaching half of German homes

The proportion of German households subscribing to Amazon Prime hit a record high of 49.3%, while Amazon managed to ensure it also increased the proportion of those using Prime Video. Unlike the market as a whole, Amazon Prime Video is increasing the proportion of its subscribers who have Prime Video as their only video streaming subscription, from 33% last year to 35% in Q2 2022. This trend comes as Prime Video is succeeding in increasing the number of 'Gateway' subscribers it attracts, those entering the SVoD market for the first time.
Netflix topped the top three most loved SVoD titles during the quarter, with Stranger Things taking the top spot and helping Netflix to 2nd place in terms of share of new SVoD additions during the quarter.
Travel is back

As Germans continue to return to the office after COVID restrictions, a steady increase can be seen in the number of those consuming SVoD content during their commute. In Q2'21, only 4.3% of Germans used their SVoD subscriptions while traveling, but this figure has steadily increased to 5.8% in the last quarter. However, usage across out-of-home services is not equal. In fact, only 4.7% of Netflix subscribers use the service while on the go, compared to 13.2% of AppleTV+ subscribers and 6.1% of WOW (Sky Ticket) subscribers. As competition in the industry intensifies and consumers seek ever greater value from their spending as inflation rises, out-of-home viewing opportunities are an important avenue for growth.
Access the interactive data visualization tool to explore current and historical SVoD market data.