German Bundeswehr to help German states after US withdrawal | News | DW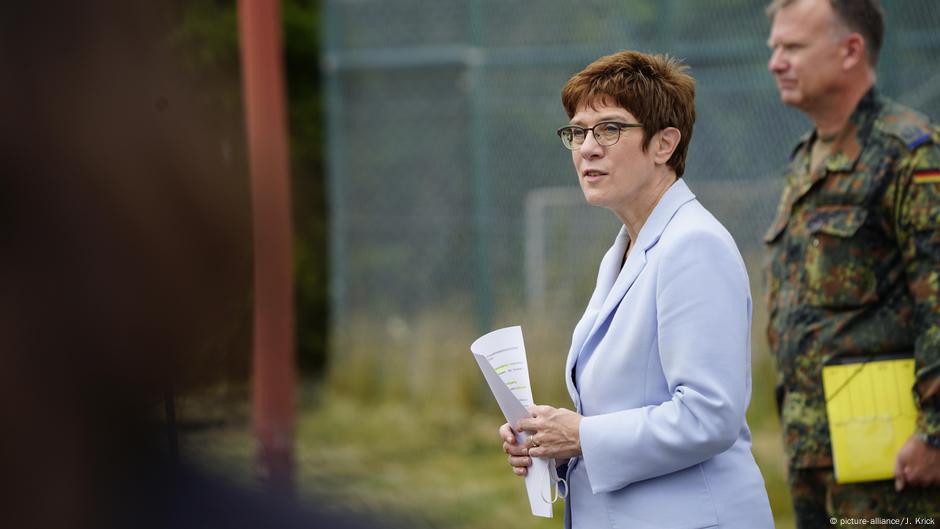 Germany should do more for its own security, Defense Minister Annagret Kramp-Karrenbauer said as the United States considers drastically reducing its troop presence in the European country.
"We keep the interests of the EU and of Germany in mind," Kramp-Karrenbauer said on Friday. "It is also true that the quality of life in Germany and in Europe increasingly depends on how we ourselves ensure our safety."
Earlier this week, the United States outlined a plan to move nearly 11,900 troops, nearly a third of its total contingent in Germany, out of the country. The move was taken on the orders of President Donald Trump, who said on Wednesday that the United States was pulling out because Germany "was not paying its defense bills", alluding to Berlin's failure to follow EU guidelines. NATO on military spending.
While NATO calls on its members to invest 2% of their GDP in defense, Germany's military spending was around 1.38% of GDP last year. Trump called Germany a "delinquent".
NATO statistics show that in 2019 out of the 28 members of the alliance, only the United States, Greece, Estonia, the United Kingdom, Romania, Poland and Latvia spent more than 2% of GDP on defense spending.
Read more: SIPRI: Germany significantly increases its military spending
German officials criticize the reduction in US troops and Trump's tone. In addition to security concerns, the withdrawal is expected to affect the economy of the towns where the troops are stationed, as many Germans work as civilian personnel and contractors for US troops and rely on US soldiers as clients for their businesses.
The Bundeswehr to the rescue?
Defense Minister Annagret Kramp-Karrenbauer said on Friday that she would meet after the summer break with the leaders of the affected German states to discuss "how the Bundeswehr can support the affected regions". She called the US withdrawal "regrettable". It was not immediately clear how the German army would attempt to fill the void left by the American departures.
German lawmaker and senior defense official Thomas Silberhorn told DW that US troops had "a magnificent job in Germany and Europe" in previous decades.
Read more: Germany calls for continued US dialogue after troop withdrawal
Germany was worried "not exclusively about a troop withdrawal, but about the reasoning," Silberhorn told DW Washington correspondent Ines Pohl.
Silberhorn said: "We understand the argument, Europeans and especially Germans should do more for security in Europe. But we are already doing a lot."
Berlin must "continue a dialogue of confidence at a higher level" with Washington, he added.
dj / sms (dpa, AFP, Reuters)