German federal court rejects referendum request to freeze rents in Bavaria: Peoples Dispatch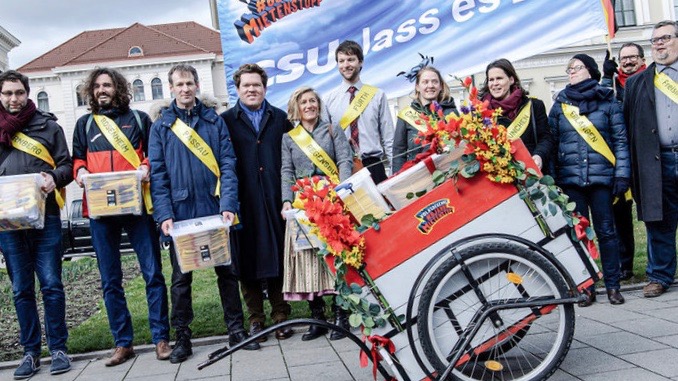 Campaign for a "six-year rent freeze" in front of the Bavarian Ministry of the Interior (Photo: via Junge Welt)
Housing rights groups and other progressive sections in the German state of Bavaria are upset over the German federal court's rejection of a citizens' initiative demanding a referendum on a proposed rent freeze in the state . On Wednesday, February 2, the court's website published that the Second Senate of December 21, 2021 had decided not to accept the petition for a referendum asking for a "six-year rent freeze" in Bavaria because the request had been deemed unconstitutional. . He also said the senate's decision was no longer subject to appeal.
A coalition for the right to housing formed by the Bavarian committees of Die Linke (the left), the Social Democratic Party (SPD), the Association of German Tenants and the Confederation of German Trade Unions (DGB) has been actively campaigning to hold a referendum in the state calling for a law that would limit the level of rents in 162 Bavarian municipalities with the tight housing market.
Most German cities are reeling from an acute housing crisis marked by rising rents and a lack of space. Progressive and working-class sections formed tenant associations and took to the streets to demand caps on rents and the expropriation of unused properties from estate agents in cities to solve the housing crisis.
In January 2020, the parliament of the Land of Berlin dominated by the coalition Social Democrats-Die Linke-Greens (Red-Red-Green alliance) adopted a invoice calling for house rents in the city of Berlin to be frozen at current rates until 2025. Germany's constitutional court hit tearing down the law stating that state governments cannot impose their own law in the German capital while the federal government has its own regulations to control rents. In Bavaria, the Housing Rights Coalition has collected more than 35,000 signatures on a petition calling for a referendum on a law imposing a six-year rent freeze in the state. The petition was submitted to the Bavarian government led by the Christian Social Union (CSU) which forwarded it to the Constitutional Court stating that the state does not have the legislative power to limit the level of rents.
Read: Fighting gentrification in Berlin – the experience of Deutsche Wohnen & CO Enteignen
Titus Schüller from Die Linke told Junge Welt (JW), "in view of the rents which continue to increase, the decision is nevertheless a bitter one. The Federal Constitutional Court upheld its case law from last year on rent caps in Berlin and unfortunately denied states legislative jurisdiction to protect tenants.
"Nevertheless, it is clear that we have succeeded in organizing great social support for the request for a rent freeze. Unions and many social associations have clearly positioned themselves for this," he said.